LS Announcements
OCS Lower School Newsletter 4-16-18
Becky McCoy Retirement Celebration – May 2nd - 4:00-6:30 PM at Upper Campus
After 30 years of service with Orangewood Christian School, our beloved Becky McCoy will be retiring and we would like to invite you and your family to celebrate with us. We will be enjoying light refreshments, fellowship and sharing lots of "McCoy Memories" that afternoon. Our celebration open house will be held in the Main Campus patio from 4:00 to 6:30 PM.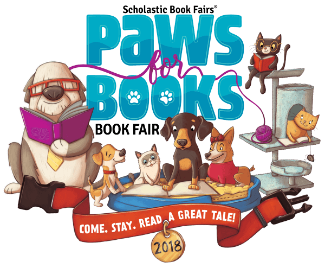 Scholastic Book Fair – April 16-20th Link
The Book Fair is coming to the Media Center April 16th through April 20th. This year's theme is "Paws for Books: Come, Stay, Read a Great Tale!" Readers will find purr-fect books and have a dog-gone good time at this year's Book Fair! Please go to the attached link if you are interested in volunteering for this fun event!
Young Author's Day – Thursday, April 19th
You are invited to join us for Young Author's Day for grades K4 – 4th grade Thursday, April 19th from 1:00 PM to 2:30 PM. Students will be in mixed classrooms for the event, so you will hear both older and younger "authors" sharing their stories! Families will be grouped together. Younger siblings can sometimes be a distraction to our authors, so we are encouraging families to not have siblings in the classrooms while our authors share, if at all possible. After the program, we hope you will join us for light refreshments in your student's homeroom.
Accelerated Reader Program – deadline April 23rd
Congratulations to our students in 2nd-5th grades who met their first semester AR goal. 61% or our students in these grades reached their goal! The AR program will end April 23rd. Please see the list for goals for the April 23rd deadline: 2nd grade are 36 points, 3rd grade goal is 60 points, 4th grade goal is 80 points, 5th grade goal is 88 points.
Last Typing/Keyboarding Goal Deadline - Friday, April 27th
2nd-6th grade students please remember that Friday, April 27th is the last Typing Goal deadline for the school year. Please see Mrs. Hamilton if you have questions.
Last Box Tops Collection for this school year– Thursday, May 3rd
Buy. Clip. Send. Earn. Find Box Tops on many participating products, clip the Box Tops from each package and send them in a baggie with your name on each bag. Earn money for the school and rewards for yourself and your class! Ask your neighbors and relatives to send their Box Tops as well. Prizes: Top 3 homerooms for the year will win a Jeremiah's party and the top 3 teachers overall will receive recognition.
SAVE the DATE - Field Day – Friday, May 4
The students from OCS Lower School will be participating in FIELD DAY at the Upper School campus. If you would like to volunteer, please email Sarah Dawes at sdawes@ocsrams.org. If parents would like to come observe the day's activities, we will be sending out more information soon. The schedule for the day is as follows:
8:30 AM – 10:30 AM 2nd, 3rd, and 4th grades
10:30 AM- 12:00 PM PreK, TK, Kindergarten and 1st grade
12:00 PM -2:00 PM 5th and 6th grades
Summer Spotlight 2018 - May 29-August 3 - 7:30am-5:30pm link
Summer Spotlight camp registration is currently open! OCS offers half or full day camp options all Summer. The camp options include athletics, the arts, and academic enrichment for rising PK4-8th grade students. To register, please visit: http://www.orangewoodchristian.org/summerspolight_2018.cfm#detailid_142022. If you have any questions, please contact Sarah Powell at spowell@ocsrams.org.
Camp of the Week: Soccer Camp, May 29-June 1, 9am-12pm, Coached by Jeff Johnson and Nick Bond, $135
Faculty/Staff Birthday link
Please help us celebrate our staff on their birthdays or ½ birthdays. If a birthday has passed and you would like to still celebrate that staff member, please contact them as soon as possible to let them know you will be celebrating their special day on their ½ birthday.
MOMS in Prayer
MOMS in Prayer Group Meets each Tuesday 8 - 9 AM in the lower school conference room. Drop your child off school Tuesday mornings, park and come help support the school during this prayer time.
"Pour out your heart like water before the face of the Lord. Lift up your hands to Him for the lives of your children." Lamentations 2:19
FREQUENTLY ASKED QUESTIONS:
Do I need to sign up every week? No, please attend whenever you are available.
Do I have to pray out loud? No
How is the prayer time run? We have a list of prayer requests. We follow the "ACTS" pattern - Adoration, Confession, Thanksgiving, and Supplication (Intercession).
Playground Calendar April: link May: link
Please see the attached links to view the Lower School Playground Duty calendar. Thank you to everyone who helps in this way!
Important Dates:
Mon. April 16th – 20th Book Fair
Thursday, April 19th Young Author's Day – 1:00 PM to 2:30 PM
Monday, April 23 Accelerated Reader Goal must be reached by this day.
Wednesday, May 2 Retirement Celebration of Becky McCoy at Upper Campus
Thursday, May 3 Last Box Top collection
Friday, May 4 Lower School Field Day
Tuesday, May 8 Principal Breakfast for AR
Tuesday, May 15 Lower School Spring Program 7:00 PM
Wednesday, May 23 Half Day of School – Dismissal begins at 11:50 AM
Aftercare begins at 12:25
Thursday, May 24 Last Day of School – Half Day – NO Aftercare
Dismissal ends at 12:25 PM.
Friday, May 25 NO SCHOOL – Teacher Work Day